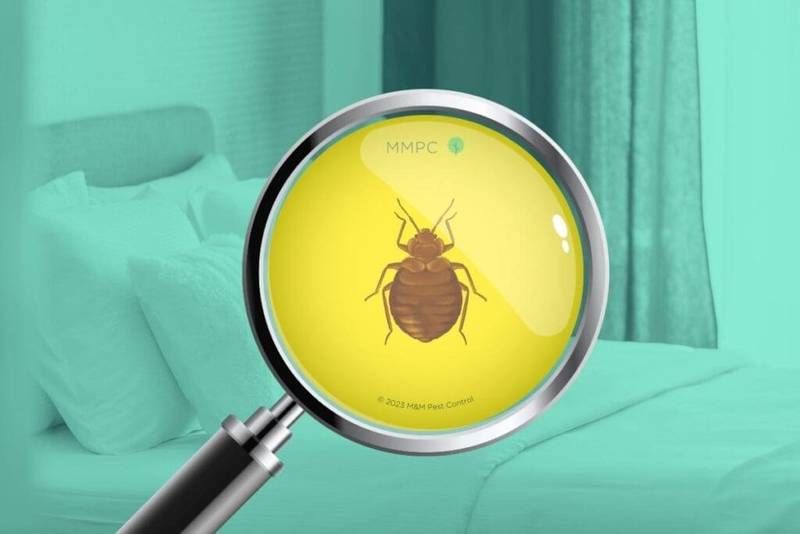 Waking up and finding an unexpected tiny visitor in your bed can be disconcerting, to say the least.
Most people immediately think of bed bugs, but there are many other types of small bugs that might find their way into or around your bed looking for food or a place to hide. Fortunately, most of them are much easier to deal with than bed bugs.
If you've found a small bug in your bed and are having trouble identifying it, you're in the right place. In this article, we'll cover the most common bedroom intruders (in New York, at least) and help you learn how to identify them.
Small Bugs Found in Beds:
If You Find a Bed Bug:
Wash bedding in hot water and dry on the highest heat setting.
Vacuum your bedroom thoroughly, focusing on the mattress, bed frame, and any cracks or crevices. Dispose of the vacuum contents in a sealed bag outside your home.
Consider getting a certified canine bed bug inspection (using specially-trained bed bug sniffing dogs). This type of inspection is recommended to accurately gauge the scope of a bed bug infestation before deciding what type of treatment is needed.
If You Find a Cockroach:
Clean and vacuum your bedroom, especially in corners and under furniture. Wipe down surfaces to remove any food residues or crumbs.
Inspect and seal cracks in walls, gaps around windows, and spaces beneath doors. Roaches can enter through surprisingly small openings.
Reduce food and water sources. Never leave food out, and fix any leaking pipes or faucets in nearby rooms.
Set up roach traps or bait stations to capture any other roaches that might be lurking in your bedroom.
If You Find a Flea:
Wash all bedding, linens, and clothes in hot water and then dry them on the highest heat setting. This will kill any fleas and their eggs.
Vacuum your entire bedroom, focusing on the bed area, under furniture, and any carpeting.
If you have pets, there's a high chance they brought the fleas inside. Check your pets for fleas and consult a veterinarian for treatment.
If You Find a Tick:
If the tick is attached to you or a pet, use fine-tipped tweezers to grasp it as close to the skin's surface as possible and pull upward with steady, even pressure. Clean the bite area and your hands with rubbing alcohol, an iodine scrub, or soap and water.
Do NOT try to kill it by crushing it with your fingers (this may cause infectious fluid to leak out). Instead, kill it by submerging it in alcohol, wrapping it tightly in tape, or flushing it down the toilet.
If you've been bitten and show symptoms of a tick-borne disease (rashes, fever, fatigue, headaches, and muscle or joint aches), take a photo of the tick or place it in a sealed bag or container for identification. An expert can identify the species, which can help in determining the potential diseases it might carry.
If You Find an Ant:
Check your bedroom for more ants, especially near walls, windows, and other entry points.
Ensure no food crumbs or spills are present, as these might be attracting them.
If you suspect there's a colony nearby, consider using ant baits. The worker ants will carry the poisoned bait back to the colony, eventually eliminating the entire population.
If You Find a Booklouse:
Booklice thrive in damp and humid environments. Use a dehumidifier or increase ventilation in your bedroom to reduce humidity levels. Fix any leaks and ensure proper ventilation in areas like bathrooms or basements adjacent to your bedroom.
Vacuum and declutter the area, especially piles of paper, books, or storage boxes where booklice might hide.
Look through stored papers, books, and cardboard boxes in the vicinity. These are common places for booklice to reside, especially if they have been exposed to moisture. If you find infested items, place them in a sealed plastic bag. For books or non-sensitive items, consider placing them in the sun or a warm, dry place to kill the booklice and reduce moisture.
Silica gel or other desiccants can help in reducing moisture in stored items, preventing booklice infestations.
If You Find a Spider Beetle:
Vacuum your bedroom and remove any clutter or items stored under the bed or in closets.
Check stored foods, especially in pantries or cabinets near your bedroom. Dispose of any contaminated items in sealed plastic bags.
Store food items, especially grains or dried goods, in airtight containers. This not only protects your food but also deters spider beetles and other pests.
If You Find a Carpet Beetle:
Check carpets, rugs, curtains, upholstered furniture, closets, and other fabric-containing items for other beetles and their larvae, which resemble small, fuzzy worms with brown bands.
Vacuum the bedroom thoroughly, especially around carpets, floors, windowsills, and other areas where carpet beetles are found. Using a steam cleaner will also help kill the larvae and eggs.
If You Find a Carpet Beetle Larva:
Vacuum meticulously to eliminate larvae, eggs, and the hairs they shed, which can cause allergic reactions in some people.
Wash bedding, linens, and any clothes that may have come in contact with the larvae in hot water. Then dry them on the highest heat setting to ensure all larvae and eggs are killed.
Carpet beetle larvae can easily move to adjacent rooms. Inspect other areas of your home to ensure the infestation hasn't spread.
If You Find a Bethylid Wasp:
Look for signs of beetles or other pests. If there are bethylid wasps in your bedroom, there are likely other pests present that they parasitize. Check stored food items, especially grains, for signs of infestation. Discard any contaminated goods.
The best way to get rid of bethylid wasps is resolving the underlying pest infestation that attracted them in the first place.
If You Find a Silverfish:
Examine your room for more silverfish, especially in dark and moist areas, such as under furniture, inside wardrobes, and around baseboards.
Silverfish thrive in damp environments. Use a dehumidifier, and consider increasing ventilation to reduce moisture levels in your bedroom. Address any leaks or sources of dampness promptly.
Silverfish are attracted to paper, glue, and certain fabrics. Store books, photographs, and important papers in airtight containers. If you have clothing, especially natural fibers, that you don't wear frequently, consider sealing them in bags.
Didn't Find Your Bug on This List?
MMPC is an eco-friendly pest control company based in New York City, so this article is focused on common bugs found in and around the New York Area. Besides the common ones listed in this article, there may be other types of small bugs that might occasionally invade beds and bedrooms, especially if you live in other states or countries.
If the bug you found doesn't match anything on this list, take a picture and send it to MMPC's Free Pest ID Center. One of our expert entomologists will help identify it for you.