Discounted K9 Bed Bug Inspections for Recent Travelers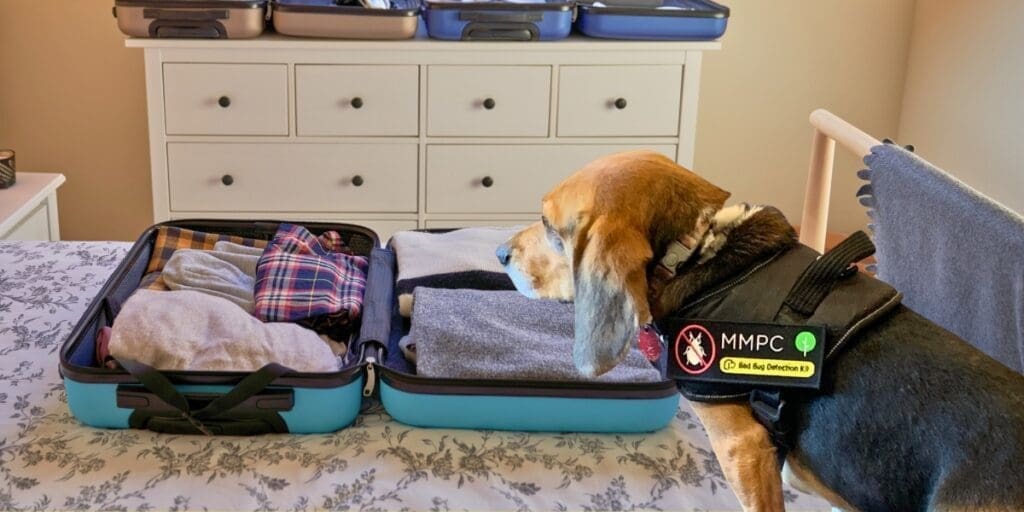 Returning from a recent trip to Paris? Make sure you didn't bring any bed bugs home by getting your luggage and/or apartment inspected by certified bed bug sniffing dogs.
MMPC is providing discounted K9 bed bug inspections to recent travelers as part of a public service program to prevent Paris's bed bugs from immigrating to New York City.
Special Rate for
Certified K9 Bed Bug Inspections

:
$99 for luggage / suitcase inspection
$199 for studio / 1-bedroom apartments (normally $300–400)
30% off for larger apartments & houses (based on sq. footage)
Mention code "TRAVEL" to claim your discount
Must be a traveler returning from outside the U.S. within the last 2 weeks
Must be located in New York City (Manhattan, Brooklyn, Queens, the Bronx, and Staten Island)

MMPC is one of NYC's highest rated pest control companies.
Our K9 bed bug inspection teams are highly trained and certified by the National Entomology Scent Detection Canine Association (NESDCA).
Reasons to Get a K9 Bed Bug Inspection
One or two bed bugs in your luggage is extremely easy to miss. A certified bed bug-sniffing canine is the most accurate and reliable way to detect bed bugs.
Bed bugs reproduce quickly. Finding them early on makes it much easier to get rid of them, compared to a full-blown infestation.
If you've gotten any insect bites at night after a recent international trip, it's highly recommended to check for bed bugs.
An Inspection Answers 3 Important Questions
Do you have any bed bugs?
If you have bed bugs, where are they hiding?
If you have bed bugs, what's the scope of the infestation and what should you do next?
All findings made by our bed bug sniffing dogs are confirmed through visual inspections by an experienced handler.
If bed bugs are found, our experts will provide you with objective and unbiased recommendations for treatment to get you back to being bed bug-free as soon as possible.